Meet Avvy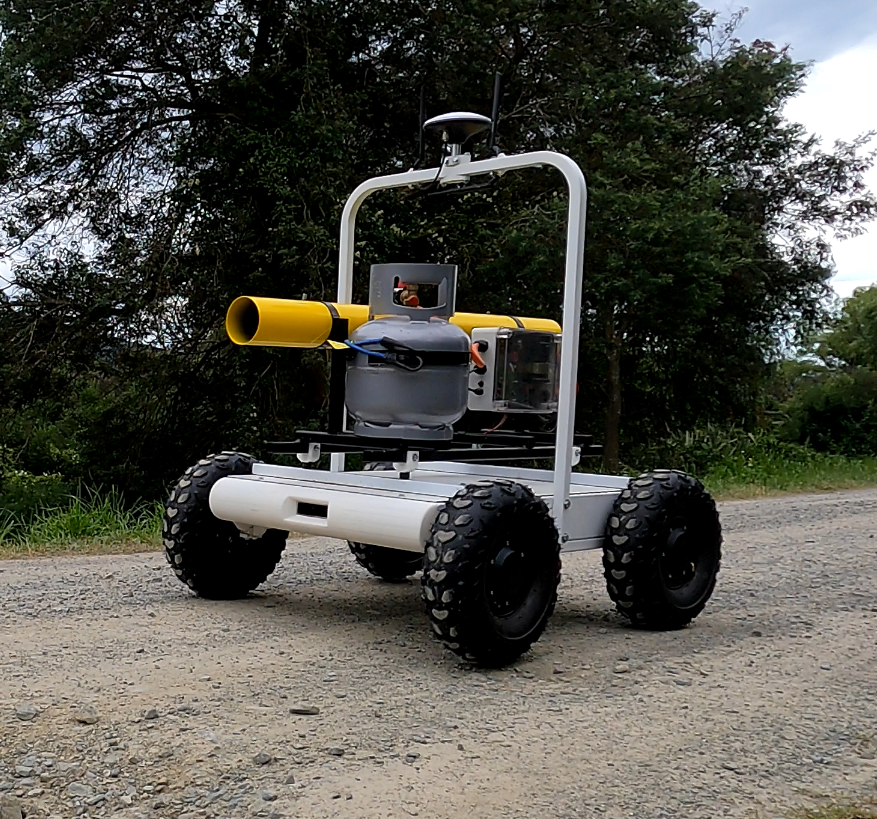 Avvy is a fully autonomous, electric vehicle for automation in vineyards. It is able to navigate safely without human monitoring and is the ideal platform to build your bird management solution around. Please contact us to organise a demo.
---
Robust Design
Robots don't need to be complex, in fact simplicity is the key to robustness. Avvy uses four independently driven wheels to navigate challenging terrain without a complex drive train. Avvy is weatherproof to allow for operation in rain.
Human Aware
Avvy uses AI to detect persons in front of the vehicle. This is used for increasing vehicle safety by stopping the vehicle and delaying firing the bird banger. The person detection is also used for teaching the robot the vineyard's boundaries and navigable routes using the follow me mode. Avvy can also be configured to send you a notification when a person is detected, keeping you informed of persons on site.
---
Core Specifications
| | |
| --- | --- |
| Range | 60 km |
| Top Speed | 8 kph |
| Max Carry Payload | 50kg |
| Dimensions (L/W/H) | 1.0m / 0.9m / 1.2m |
| Batteries | 36v 40Ah Li-ion |
| Charging Time | 6 hours |
---
Pricing & Availability
| | |
| --- | --- |
| Availability | Orders placed today have a 10 week lead time |
| Regions | Marlborough, NZ (more coming soon) |
| Purchace | $15,000 NZD |
| Lease | $250 NZD / week or $5000 NZD / season |
Service plan includes cellular connectivity, dashboard and mobile applications, along with product support.
---
Accessories
Siren – All Avvys come with an integrated siren. This is primarily used as a bird deterrent, but can also serve as a means of alerting people to the vehicles presence and location as well as for security.
Bird Banger – A bird banger can be installed on top of Avvy by us or by you after purchase. It is a simple plug and play accessory which integrates with Avvy through the accessory port on the rear of the vehicle.
Custom Accessories – We fully encourage you to modify Avvy to best suit your bird management plan. This could involve simple additions such as attaching kites, through to more complex accessories such as lasers and crop monitoring cameras. Up to 400 watts can be drawn from the accessory port which also has a connection for activating the accessory.